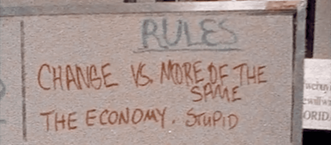 It's "the economy, Stupid!"
​And "Change vs. More of the same"

Well known slogans based on a sign in James Carville's office, circa 1992
​
The NDP can't expect to get elected by telling Canadians how it will spend more money to or solve problems as part of a zero-sum redistribution of wealth that will mean higher taxes for most (what the right labels as "tax and spend")

It is not enough for the NDP to opposes privatisations or trade deals because it disagrees with the neo-conservative economic policies of the other parties, without telling Canadians how the NDP can create jobs and otherwise improve our standard of living via other policies.

The federal NDP lacks credibility on the economy.

And in any case, the best way to reduce inequality is to raise up people at the bottom by reducing unemployment and under-employment, and to do so at the same time that we raise wages for middle and lower income Canadians.

Countries like Japan and South Korea raised themselves out of poverty by ignoring the standard Anglo-American economic policies that Canada followed, particularly since the election of Brian Mulroney. These countries maintained control of their economies and yet became major exporters of things other than natural resources. We can also learn from Germany and the Scandinavian countries how to have both a high standard of living, good social programs and social justice. Capitalism in those countries is not the same as in the US or even Britain. Executives in Japan don't earn what US and Canadian executives earn, for example. Canada needs to modify capitalism to better suit our needs and situation, and to better serve the Canadian people (including as consumers, employees and investors)

We have a mixed economy, yet NDP politicians never talk about "supply and demand" or how to make the market work better to solve our problems. The economics profession (and those on the right) tend to treat markets with religious veneration instead of seeing markets as a tool that sometimes works, sometimes fails, and sometimes needs regulation.

Government jobs are real jobs - but governments generally don't do well at things like exports. However, governments can shape the economy and marketplace to make sure everything works better both in terms of creating wealth and in ensuring our social safety net works for everyone.

​The key to is to have policies that will reduce unemployment - I think I know how we can achieve this, but it might mean the NDP needs to rethink some policies and be willing to tackle some sacred cows.


Brian's message:
​
our priority in canada should be full employment (<5%)

​FULL EMPLOYMENT = TIGHT LABOUR MARKET
​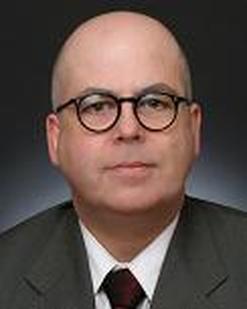 Brian's Plan for Canada:
​
The Hope and Prosperity Agenda
If you look at all the advantages we have in Canada, there is no reason why we should not have the highest standard of living in the world - and be the best country in the world to live in when judged by any of the "Quality of Life" indicators such as having low child mortality, longest lifespan, low economic inequality, low crime rate, high literacy rate.

Canada (or some Canadian cities) often ranks near the top of surveys of best places to live in the world - yet not everyone is sharing in our overall good fortune. We need to address poverty and other areas of social policy where we fall short, but redistributing wealth requires we have wealth to begin with. Scandinavian countries often rank higher than Canada on many measures. Without a plan to ensure our economic success, plans to address other problems will fail for a lack of resources.

In the past, we were often satisfied to come in second to the US on economic indicators - mainly because our vision was to hitch our wagon to the US economy and have them pull our economy along with them. This was the vision of Brian Mulroney with the 1988 Free Trade Agreement and then NAFTA.

The other vision for Canada was of Canada as being wealthy by virtue of being the second largest country in the world, and exploiting our non-renewable resources and renewable resources alike. Yet, we did a poor job of managing them - often thinking short tem and not about economic or environmental sustainability.

Our industrial policy had been a branch plant economy - in part this was necessary because the US had high tariffs against manufactured goods from Canada and we had access to the British Empire, but we cannot seem to make up our mind if we are a modern industrialised economy, or an economy based on "staples" - and the yo-yo-ing between resources and manufactured goods (and services) had been a disaster - when resource prices are high, the resulting high dollar kills non-resource jobs and businesses, and then when inevitably commodity prices in world markets collapse, the resource parts of our economy suffer. This boom and bust cycle prevents us from competing effectively against countries like Japan and Germany - even Peter Lougheed knew Alberta needed to diversify.

Don't confuse this with "trickle down economics", but it is hard to have greater economic justice and to reduce inequality if an economy is stagnant or shrinking, or if population growth exceeds a nation's ability to provide new opportunities.